Come to the next contra dance!
Dances start at 8:00 PM with a lesson at 7:30 PM, unless otherwise noted.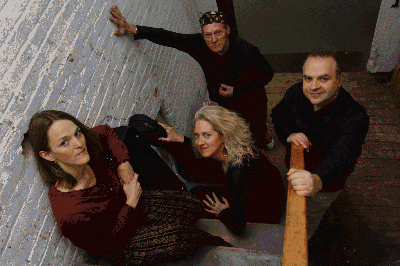 Date: Friday September 29
Location: Reality Center
Description: Wild Asparagus is an iconic contra dance band. They have inspired American folk music enthusiasts with contra dance music for more than three decades. George Marshall is known for his amiable and clear teaching. Wild Asparagus has such a wide, creative repertoire that both evenings are sure to be special!
$15 general admission / $12 for TCD members. Special offer: a discount package for both Wild Asparagus dances: $25 general/$20 TCD (paid on Friday night ONLY).
Music: Wild Asparagus (Becky Tracy, fiddle; Anne Percival, piano, guitar, and vocals; David Cantieni, flutes, tin-whistle, oboe, saxophone and bombard; Mark Murphy, bass; George Marshall, concertina; with special guest Keith Murphy on guitar, mandolin, and foot percussion), link
Caller: George Marshall
---
We would like your feedback!
Please tell us more about what you liked or didn't like at any TCD contra dances. Your experiences will help us make our dances a better experience for everyone! To send us your opinion (anonymously if you wish) just click here.
TCD is committed to providing a welcoming, fun and safe place for all people. We urge everyone taking part to treat each other with the greatest respect and attention to everyone's comfort and enjoyment. If, however, you have had an experience TCD needs to know about, please click here.
Dance fun!
Live music
No partner necessary
Beginners welcome
All dances taught
Free lesson at 7:30 pm
Dance 8-11 pm
Great exercise
And a national magazine just said contra dancing was No. 1 on its list of awesome to do on a date (without alcohol)! Click here to see the article.
What is contra dance?
Read more about contra dancing.
When do we dance?
Check the schedule.
To stay on top of our favorite dances in our area, go to our Google calendar.

Check the community dance schedule.

These are our regular dances:
First Saturdays at Carrboro Century Center - by Footloose/Contrazz
Second Fridays at Carrboro Century Center - by TCD
Third Fridays at Carrboro Century Center - by Carolina Song and Dance Association
Fourth and fifth Fridays at Reality Center - by TCD
Community dances some Saturdays at Binkley Baptist Church - by TCD
Get involved!
Join the TCD Facebook group
. Join the Triangle Contra Yahoo group
. Your dance group is a volunteer organization. If you would like to get involved, click here.
Become a member!
You can become a Triangle Country Dancers member and save on dance admission. Members save $2 on each dance! Another benefit of membership is our newsletter "The Hey!" which is published 6 times a year. Read more about membership.
Media
Carrboro Commons Documentary Video of TCD: link

NPR's All Things Considered: Youth Flock To Contra Dancing
: link

To see a PBS report on contra dancing in Maine, click here.

Whoopin' It Up! Students at the Center for Documentary Studies interview Linda Cooper about contra dance:
Videos
Carrboro Century Center videos.

Reality Center videos.

Pleasant Green videos.

CulBlu's contra dance videos created by Dequan Powell