Come to the next contra dance!
Dances start at 8:00 PM with a lesson at 7:30 PM, unless otherwise noted.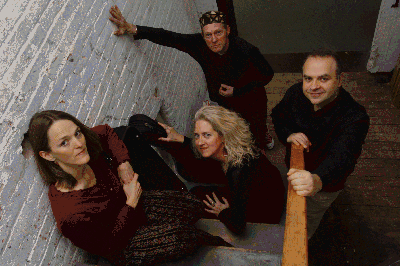 Date: Saturday September 24
Location: Reality Center
Description: TCD is very excited to offer this special event: Wild Asparagus, one of the hottest contra dance bands in the country. Drawing upon music from New England, the British Isles, and Canada, as well as classical sources, Wild Asparagus takes an original approach to the traditional dance music of our folk heritage. Using their unique blend of instruments, creativity, and skills, they offer a sensitive and powerful performance. General admission: $15. Students: $12 (Passes cannot be used for this event).
The heartbeat of Wild Asparagus is Ann Percival on piano, guitar, and vocals. Ann's playing is highly inventive while still maintaining an irresistible rhythm. David Cantieni, a woodwind wizard, pours forth lively melodies and liquid harmonies on his flutes, tin-whistle, oboe, saxophone and bombard. Becky Tracy's masterful fiddling is that rare combination of energy and beauty. George Marshall is an accomplished English concertina player and also provides driving rhythms on bodhran and bones. Harry Aceto's bass will help propel dancers across the floor. George also provides excellent instruction and calling.
Music: Wild Asparagus (Becky Tracy, fiddle; Anne Percival, piano; David Cantieni, flute, sax, etc.; Harry Aceto, bass; George Marshall, concertina and calling) link
Caller: George Marshall
---
Feedback
To give us feedback on bands and callers, click here.
---
Live music
No partner necessary
Beginners welcome
All dances taught
Free lesson at 7:30 pm
Dance 8-11 pm
Great exercise
And a national magazine just said contra dancing was No. 1 on its list of awesome to do on a date (without alcohol)! Click here to see the article.
What is contra dance?
Read more about contra dancing.
When do we dance?
Check the schedule.
Second Fridays at Carrboro Century Center - by TCD
Fourth and fifth Fridays at Reality Center - by TCD
Community dances some Saturdays at Binkley Baptist Church - by TCD
Other dances
First Saturdays at Carrboro Century Center - by Footloose/Contrazz
Third Fridays at Carrboro Century Center - by Carolina Song and Dance Association
Get involved!
Join the TCD Facebook group
. Join the Triangle Contra Yahoo group
. Your dance group is a volunteer organization. If you would like to get involved, click here.
Become a member!
You can become a Triangle Country Dancers member and save on dance admission. Members save $2 on each dance! Another benefit of membership is our newsletter "The Hey!" which is published 6 times a year. Read more about membership.
Media
Carrboro Commons Documentary Video of TCD: link
NPR's All Things Considered: Youth Flock To Contra Dancing
: link
To see a PBS report on contra dancing in Maine, click here.
Whoopin' It Up! Students at the Center for Documentary Studies interview Linda Cooper about contra dance:
Videos
Carrboro Century Center videos.
Reality Center videos.
Pleasant Green videos.
Reality Center with The Mighty Babylonians - CulBlu's video is used courtesy of Dequan Powell
Carrboro Century Center with Sassafras Stomp - CulBlu's video is used courtesy of Dequan Powell